Better for Implant Surgeons, Restorative Dentists, Lab Technicians, and, most of all, Patients
Implant surgeons can welcome the Anatotemp anatomic dental implant healing abutment as an off-the-shelf solution that aids in creating an esthetic emergence through the gingiva during the healing period. By using the Anatotemp system, implant surgeons are able to create an effortless restorative process for their restorative dentists and lab technicians. For practitioners performing all aspects of implant dentistry, Anatotemp makes it possible to greatly improve workflow and results.
Restorative dentists may enjoy both the ideal tissue contour while taking impressions (whether traditional or digital), and the enhanced ease of seating restorations. Occlusal adjustment due to insufficient seating may be vastly minimized. Finally, enhanced tissue contour can lead to optimum esthetics.
Dental laboratory technicians can appreciate the ideal gingival contour, allowing them to create an ideally shaped dental restoration. Gone will be the days of inferior shaped crowns or lollipop effect due to minimal gingival opening.
Patients may reap the benefits of knowing their surgeon, restorative dentist, and lab technician are utilizing all available resources to create the ideal dental restoration resulting in optimal esthetics, function, and hygiene.
---
The Challenge
For years implant dentists have used conventional round healing abutments, thereby creating a round gingival opening. This practice has led to numerous challenges including:
Challenges with impression taking
Challenges with restoration fabrication and inferior crown shape due to sub-optimal gingival contour
Additional surgical intervention at time of restoration seating to create more space
Blanching of gingival tissue at time of restoration seating
Incomplete restoration seating due to an inadequate gingival opening
Cement extrusion due to difficulty in seating restoration and difficulty instrumenting between tight gingiva and restoration
Although custom healing abutment procedures do exist, these can lead to increased chair time, and can be labor and laboratory intensive
---
The Solution
The Anatotemp anatomic dental implant healing abutment is an off-the-shelf solution that:
Anatomically contours soft tissue during the healing process
Possesses interproximal concavities against which bone or bone grafting material can be placed after the Anatotemp has been completely seated and secured.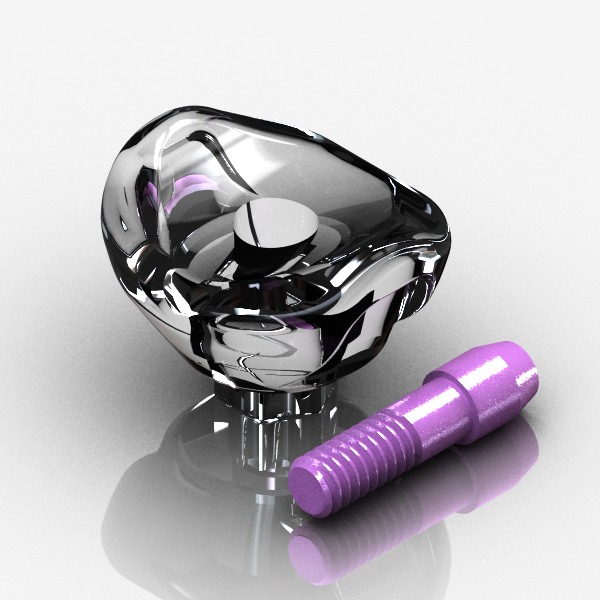 ---
Design
Shape
Anatotemp shapes and sizes were designed using an exhaustive cone beam CT study, enabling the formulation of average sizes that are ideal for an off-the-shelf component.

The six shapes include:
Mandibular
Molar

Maxillary
Molar

Maxillary/Madibular Premolar Mandibular Canine

The Anatotemp dental implant healing abutment is available in six anatomic shapes and numerous anti-rotational connections. When choosing Anatotemp shape and location, you may want to reference the Anatotemp Shape Location Guide
Maxillary
Canine

Maxillary Lateral/
Mandibular Incisor

Maxillary
Central

---
Patented Shape
The anatomic shape and bilateral interproximal concavities aid in the contouring of the gingiva as well as stabilizing interproximal bone grafting material.
Material
The Anatotemp is made of a biocompatible, medical-grade, smooth plastic that is hygienic and gentle on tissue.
Sterile Medical Packaging
All Anatotemps are provided sterile and are packaged with the corresponding titanium abutment screw in a PETG medical tray with Tyvek pull lid.
---
Anatotemp Dimensions
| Shape | Height | Width (Buccal-Lingual) | Width (Mesial-Distal) |
| --- | --- | --- | --- |
| Maxillary Central | 5 mm | 7.5 mm | 7 mm |
| Maxillary Lateral – Mandibular Incisor | 5 mm | 6.5 mm | 5 mm |
| Maxillary Canine | 5 mm | 8.25 mm | 6.5 mm |
| Maxillary/Mandibular Premolar & Mandibular Canine | 5 mm | 8.5 mm | 5.75 mm |
| Maxillary Molar | 5 mm | 9 mm | 9 mm |
| Mandibular Molar | 5 mm | 8.5 mm | 9.5 mm |